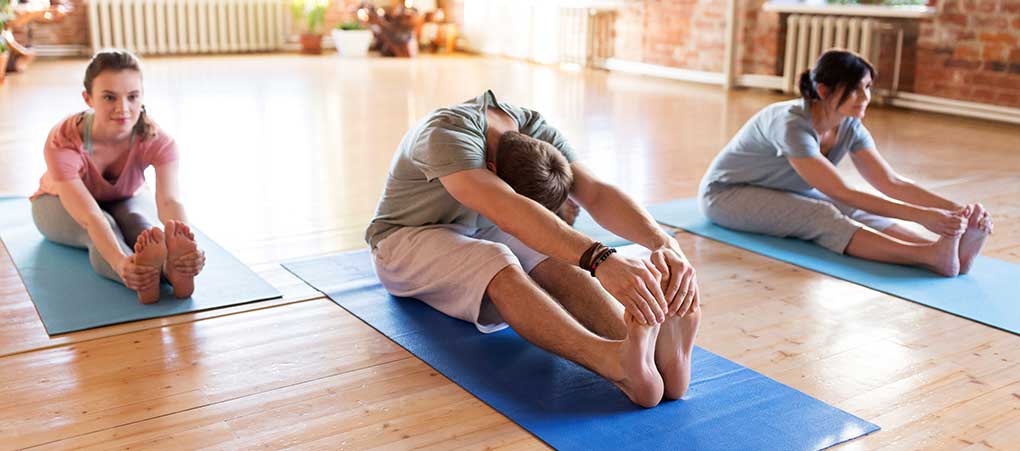 Trying a new thing can be scary. Whether it be trying a new food, a new job, living in a new city, or even a new workout. The first time for anything is intimidating. Jumping into an experience with no prior knowledge and no one to walk through it with you is tough and sometimes pushes us to miss opportunities in life.
For the longest time, I searched for a workout that I really enjoyed. I knew that any workout made me feel good and happy after the fact, but I struggled to find a workout that I was happy DURING! This is a huge problem because when you don't enjoy a workout, it's a little bit hard to get up and go.  A few friends had suggested that I try yoga. People told me I would love it and that it would be just what I was looking for in a workout. I believed them, but I was scared. I was afraid to make a fool of myself and I had no idea where to begin! I considered signing up at a few different yoga studios over time, but never actually did it. It is very easy to say you are going to do something, and quite hard to actually do it! (Especially when it takes time and money)
I began to give up on my search for the perfect workout. Then, one day, fate stepped in! I was with a friend grabbing a cup of coffee at Nate's Coffee on National Avenue and in walked a woman who I would later find to be one of my greatest mentors and joy-bringers. This woman asked me if I worked out in the area (because I was dressed in workout clothes- even though I had not worked out that day I was just being lazy). I told her that I did not and she proceeded to tell me that she was opening a yoga studio in the area. I sat right down with my drink, pulled out my computer, and signed up for my first yoga class EVER! I was extremely nervous. I had no idea what to bring with me or what to wear. The next morning I woke up, threw on some leggings and a t-shirt, and drove to yoga with a water bottle in hand (and that is absolutely all I needed). I got to Yoga class and the lady from the coffee shop, who goes by the name of Kelli Gabat, let me in and gave me a mat (which she provided!)
That morning, my life changed. It sounds dramatic, but it truly did. And it still is. Because I went out on a limb and tried yoga, I found somewhere that I felt like I belonged. Kelli took her time teaching me the different yoga poses, and had so much patience and grace toward me. Here I am, two months later with a happy and full heart! Kelli Gabat has given me a means to exercise while also feeding my soul. I cannot help but think what if I hadn't ever gone to that first "terrifying" class? So many people miss these opportunities for such a wonderful experience. If you are reading this- do NOT miss this calling! You will absolutely not regret your decision to sign up for a class at Wildfire Yoga. Whether you try Yoga Basics, Slow Flow, Vinyasa Flow, or any other class, Kelli will move at a pace that works for YOU and you will get the hang of it in no time!
So, what to do now? Sign up for class at Wildfire with Kelli or any of her other amazing instructors!  Wear something comfortable for YOU. If you have a mat, bring it along. If you don't, come empty handed and Kelli will take care of it! Do not be afraid that you are not flexible enough, not experienced enough, or that you will be judged. Everyone I have ever encountered in Wildfire has been patient, accepting, and genuinely happy to have me there! Now, I cannot get enough of this magical place and I am certain you will feel the exact same way.
—Summer Amro