Art of Hands on Assists and Alignment

Feb. 28, 2021 ~ 2 to 5 p.m.

Yoga is all about proper alignment and structure. Megan is guiding a hands on  teaching lecture that focuses solely on correct alignment by using your body mechanics that produces optimal muscle performance which translates to having power within the poses. Alignment in yoga maximizes the pose benefits while minimizing the risk of injury. 
Learn certain minor cues and assists within each posture to help exhibit how to get deeper into the poses, as correct postures can make any pose feel better in specific bodies. This can also create a broader understanding of the p oses to know your own body. 
This workshop is for anyone who would like to deepen their yoga practice and yoga teachers who would like more teaching hours— all is welcome. 
3 credit hours for continuing education.
Investment: $70 per person; $60 early bird special before Jan. 5

Intro to Ayurveda with Nishaan Sandhu

March 13, 2021 ~ 3 to 6 p.m.

If you're interested in creating a more positive relationship with your body and want to feel more aligned with nature join us *online* Saturday, March 13th from the live studio teaching at Wildfire Yoga.
Intro to Ayurveda will be a lighthearted, fun and informative three hours where we will unravel some of the myths and magic of body types (and health) such as how to create a healthier and more loving relationship with your body, your mind and even those around you.
I'll share my personal experience in practice for the past 15 years (plus a lifetime of trial and error) with a down to earth approach to understanding Ayurveda so you can walk away feeling clear, motivated and excited about your health, self-care and what you've been born with.
We are all amazing, unique and precious beings, so why not create extra space to love on yourself so you can live a healthier, more fulfilling and authentic life that allows you to feel deeply alive and body positive?
I'm super honored and excited to share these tools with a twist. If you're looking for by-the-book Ayurveda, this may not be for you. But, if you're excited to truly embody a deep relationship with your body, nature and the Elements, this is.
These principles are rooted in an ancient wisdom that lives on because it works. We sooo look forward to seeing you there.
Let Your Sun Shine! Get the Most out of Sun Salutations

March 27, 2021 ~ 8 to 10 a.m.

During our time together, we'll flow through a total body alignment based vinyasa practice. With particular emphasis on sun salutations. It is easy to move through the motion of common yoga poses. Let's take a moment to really feel into these cornerstone asanas and see how we can get the maximum benefit from them. We will round out the practice by strengthening the core and working on some arm balancing postures.
Investment: $40; $30 for members
Refine Your Practice +Yoga Injury Prevention Tips: Sun Salutations & Stand Poses

March 27, 2021 ~ 3:45 to 6 p.m.

During this workshop we'll focus in refining your alignment plus injury prevention tips for standing poses. Though the practice of yoga can be healthy, yoga injuries have been on the rise there have been recent updates in the yoga world on how to make certain asanas safer. It's important to move in a way that minimizes potential injuries and maximizes the longevity of your yoga practice. Lecture and Laboratory exploration.
Investment: $45; $35 for members
Deep Backbends & Deep Twist Vinyasa

March 28, 2021 ~ 8 to 10:15 a.m.

Our current way of living tends to foster rounding of the shoulders, slouching of the torso and tight hips and back pain due to sitting for long periods of time a desk, in a car, and even from healthy activities such as riding a bike. During this all-levels well balanced master class, taught by Laura Burkhardt, we will fill out our alignment as we gradually flow into deeper and deeper shoulder openers and backbends and twists. re to leave the class feeling open and strong We will round out the practice by lengthening the hamstrings and opening the hips. You are sure to leave the class feeling open and strong from head to toe, and skin to bone!
Investment: $40; $30 for members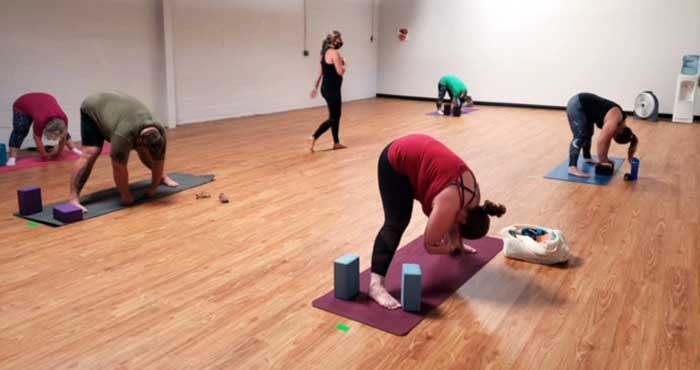 4 Week Beginner Series

April 6, 2021 ~ 6 p.m.
200 HR Yoga Teacher Training

Aug. 21, 2021

Want to explore the mindful movement on and off the mat of yoga and deepen your practice with intention, then this is the training for you! We will dive deep into anatomy, injury prevention, business of yoga, alignment and sequencing. Along with meditation and the Chakras.
Ask about our deals for Private Sessions!
---
Use the link below to learn more or buy a membership!
20% off merchandise
25% off memberships
Bring 2 friends and family a month for free
10% off private sessions